NAVARAKIZHI TREATMENT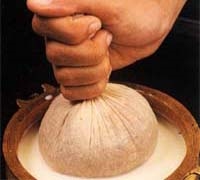 The Navarakizhi Treatment offered is highly credible. Under this navarakizhi ayurvedic treatment, special rice is cooked in herbal decoction & tied in cotton cloth and then this hot pack massage is given all over the body for about 60 to 90 minutes. Offered navarakizhi therapy is an excellent rejuvenation therapy.
This navarakizhi therapy in Calicut strengthens muscle tissues & boost up sport performance also useful in paralysis, arthritis, muscular & joint related ailments, Back Pain, Neck Pain and spinal Disorder etc.
Offered navarakizhi therapy Calicut is also prescribed in clinical conditions like epilepsy, diabetic neuropathy. Moreover, these creamy rice massage services are guaranteed for excellence.
Duration : One hour
Course : 7 to 14 days